Case study: Red Balloons mental health and wellbeing support in Stockton
We spoke to Leigh Trimble, volunteer and Project Manager of Stockton's Red Balloons charity. Set up in 2017, the organisation helps those with mental health issues by encouraging them to chat and expand on their feelings.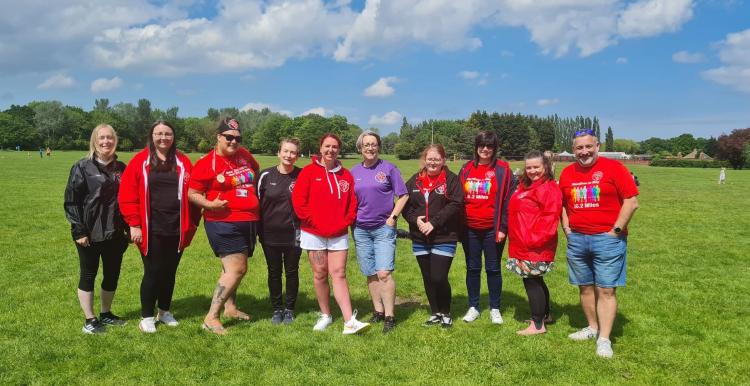 They also like to promote exercise and fitness to help people with their emotional wellbeing.
Earlier this year, they were given fully fledged charity status and funding from the National Lottery to progress their offer, and it's hoped that more and more people will benefit from their services as a result.
"We're really happy to be in the position we are in, despite what's gone on over the last year or so," said Leigh.
"Our Chief Executive (Claire) and I are both passionate about supporting people who find themselves going through tough times and reducing the stigma that people are still faced with when discussing mental ill health.
"We've worked really hard over the past few years to increase the services we offer and to widen the areas where we offer them so we can support more people."
Red Balloons first began when Claire wrote a mental health and wellbeing blog, giving a first-hand account of her own experiences and feelings.
Her passion and honesty gained a lot of support, and it wasn't long before people were encouraging her to do more.
Excited by the outcome, she decided to set up a running group to bring people together and create an environment where people could talk to each other in a relaxed and calming atmosphere.
It was during one of these sessions that she first struck up a friendship with Leigh, who herself was going through a difficult time.
"We instantly hit it off. I felt I could open up about my mental health issues with Claire, which was something I often struggled with.  We are very similar in a lot of ways and now have a very close, supportive working relationship and friendship," said Leigh.
"As the friendship progressed, Claire asked me to become more involved with developing the idea of Red Balloons and help her make it bigger, so I jumped at the chance.
"We looked at what we'd need to do to gain charity status and funding, then pretty much got to work. There was a lot to do and still is, but we're nothing if not determined."
In 2019, the pair devised more one-to-one sessions, organised additional walking groups and put together a Board of Trustees to develop the charities brand and reputation…. and then Covid 19 hit!
"It wasn't an ideal scenario but Claire and I went back to the drawing board and discussed ideas.  We decided that we'd do our very best through this difficult situation to help people in any way we could, while the world was upside down around us all.
"Lots of people suffered over lockdown so it was important that we kept our inbox open for people to get in touch. We also decided to do virtual walks so people could experience them from home, and we continued offering advice when needed."
Despite the pandemic, there was positive news for the organisation…. in that all the hard work applying for lottery funding had paid off.
Red Balloons were also given their official charity status in 2021 and they've since gone on to be successful in securing funding to support people affected by Covid from Tees, Esk and Wear Valley NHS Trust.
With the extra funding, they will set up the 'Wellbeing Buddy Project', which people are referred in to via other organisations.
This initiative involves an initial chat about an individual's situation, and what goals they have to improve their physical and mental wellbeing.
She also encourages them to discuss their feelings and uses her own experiences to suggest solutions and actions.
Leigh said: "It will be such a rewarding project. If your mental health is suffering, you should talk to someone.  People often feel alone and that no one will understand, but this is where Peer Support comes in.  We've been there and can support with a listening ear, plus advise on things you can do to help you cope with difficult days. 
"Being out in the open air and nature can have such a calming effect, we know that combining that with having someone to talk to has a positive impact.
"Exhaustion is also a symptom of mental ill health which impacts on motivation to get out and about, so its very easy to get stuck in a rut if you're just at home all the time.
"If you don't feel great, get in touch and we'll do our best to help you. 
"We're not counsellors or therapists but we have lived experience so know what you're going through.   We know how tough it is to ask for help and how much strength it takes, but we know when you do you won't regret it." 
Red Balloons can also pair you up with one of their fantastic volunteers, who give up their free time to help Claire and Leigh with much of their service delivery.
Leigh added: "Our team of volunteers are incredible. We'd just like to say they are unbelievably amazing because they go the extra mile for us every time. We buddy them up with some of our service users and they do everything they can to help them feel better.
"Some of them actually came to us for help in the first place, so like Claire and I, they can relate with many of the people who come to us for help."
If you'd like to get in touch, see below for contact details: 
07871 658 157