Case study: Dementia help for Thornaby residents
We spoke to Peter Otter, Manager at the LiveWell Dementia Hub in Thornaby.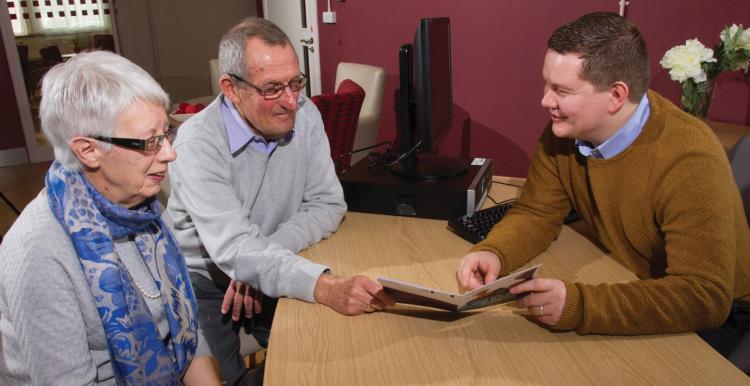 Peter talked to us about what the centre offers, the organisations and delivery partners based there, the challenges of COVID and why knowing more about dementia - whatever your age - is important.
The LiveWell Dementia Hub, which is run by Stockton-on-Tees Borough Council, provides an informal and welcoming setting and offers people a first point of contact for information about dementia and what support is available across Stockton-on-Tees.  
Alongside information and advice, the venue also hosts a range of activities, delivered by partners from the NHS and voluntary sector. This includes social events, cognitive stimulation therapy, carers courses and one-to-one appointments with a range of professionals.
"It's a hive of activity. I love it," said Peter.
"Some people come in because they are looking for specific information or support, but others just want an informal chat or a catch up.
"Everyone is unique and has different needs, so we don't have a one size fits all approach. Instead, you could say that we provide the jigsaw pieces and allow people to put together their own version of what we offer. We like to try and be as accommodating as possible."
Although the hub is closed to the public at the moment, the team are still providing a variety of support remotely, so people can access the team of advisors and be given all of the usual information they need.
"We are carefully reviewing when it is safe to open again and will keep the public updated," said Peter.
"I'm really looking forward to going back and we're excited to see everyone.
"The whole team and the partners we work with have shown great commitment and innovation in supporting people during the pandemic, but we also appreciate the real value of face-to-face contact. We're here to put people in touch with the right services and help them as much as we can."
We can't ignore the fact that the last 12 months have had a major effect on those with dementia. Many have had their daily routines disrupted and/or a lack of cognitive stimulation, as well as feeling lonelier, more anxious and in fear of abandonment*. (*Source: Alzheimer-europe.org)
Digital exclusion for older people and the need to shield throughout the peak of the pandemic have only added to these issues, with many not able to chat face-to-face (via online chat) or even go past their own doorstep.
"We are very aware that this period has been particularly difficult for some people with dementia as well as their families, however we are determined to do all we can to support people.
He continued: "Although physically meeting up with people will always be important it is also essential that going forward, we make the world a more accessible and digitally inclusive place, so that we can enable everyone with dementia to live as well as possible. We work with a great range of partners at the Hub and every one of them is a vital cog in the machine offering support, interaction and advice when it's needed."
Although dementia is normally associated with older people, Peter also expressed his thoughts on younger generations gaining access to information, because he believes that you are never too young to start learning about the condition, especially when it comes to those who are currently carers.
"We can offer carers some tips on managing dementia related changes, advice on looking after your own needs, and guidance on important themes like power of attorney and planning for the future. Although what's right for one person may not be right for someone else there are real benefits to accessing information at an earlier stage in-terms of planning for the future and making sure you know what support is available, so never think it's too early to pop in and have a chat." 
Those who benefit from seeing the hub's staff have also been eager to get back out of the house for a friendly chat.
82-year-old Malcolm from Billingham also says that his experience of the hub has been invaluable.
"I am a full-time carer for my wife who suffers from Alzheimer's and "I was introduced to the LiveWell Dementia Hub about three years ago.
"Over that period, I have been very thankful to have access to the teams' expertise and commitment and it's been a life saver for me.  The whole team have made themselves available whenever I've needed help. I really do not know how I would have coped on occasions without the help being available, either in person or by phone."
If you would like more information, please call the LiveWell Dementia Hub on 01642 527363.
You can read more of our 'good news' case studies HERE.