The purpose of this report is to look at the quality of life provided to older people living in residential and nursing care across the Borough of Stockton-on-Tees.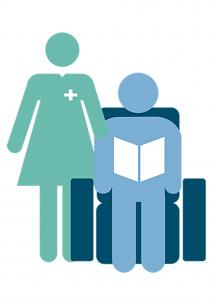 Summary
In total Healthwatch Stockton-on-Tees received a response from 123 relatives/friends, 174 staff members and spoke to 148 residents.
We sought information with regard to eight quality indicators, developed in 2016 by the organisation Independent Age3, and tested in collaboration with Healthwatch Camden. These indicators aimed to cover those features that all good care homes should be able to evidence in their policies and through everyday activities.
High levels of satisfaction with the management of the services we visited were generally expressed by both staff members and by relatives. Managers were said to be supportive and approachable and relatives stated that they made themselves available to talk to if and when required. Some managers were less visible around the home, particularly in larger services, and residents were not always aware of them, especially by name.
We did note that out of the 30 services visited as part of this research, over 50% had changed their manager in the previous 12 months. This was particularly noticeable in services that had received less than favourable Care Quality Commission (CQC) inspections.
The CQC 'State of Care' report 2017/184 also picked up on the high turnover of Care Home Managers nationally. The Manager's role is complex and demanding and they need to be supported by providers and not merely 'held to account' when something goes wrong. The CQC adds that, "considering the strong link between good leadership and high quality care this is an area that providers need to focus on."
Most staff spoken to believed they did have the skills necessary to do their job, but many commented that time pressures meant that they were not always fully able to meet the needs of residents. The main reason given for this lack of time was the amount of paperwork staff are required to complete. Some staff commented that on occasions the direct care of residents could be compromised as a result of this.
This lack of time was picked up by relatives with one saying, "staff seem inundated with paperwork" whilst another said, "staff care deeply but don't have the time".
Residents said they found staff to be very kind, caring and compassionate but that they only managed to stop for a chat "if they have the time" and that very often this did not happen.
Staff described the process of how residents are admitted to the home and how they gathered information about health care needs, as well as gathering a personal history of each resident. There was a lot of similarity about the process followed.
Again, however, time factors came into play, with one staff member telling us, "all the information is in the care plans but you don't always get time to read them." However, some services were more proactive when undertaking care reviews. Some services had 'resident of the day' reviews and efforts were usually made to involve family members and residents themselves in the process. Others had a more ad hoc process, reviewing monthly, quarterly or six monthly depending upon need. Family members generally felt they were kept well informed by the service.
Residents were less sure, with few actually referring to a care plan, but they generally felt that staff were aware of their particular needs and did their best to meet them.
A number of staff did not feel that a sufficiently stimulating activity programme was in place, and a third felt that residents were afforded little opportunity to engage in activity in the community. Some staff did not see it as their responsibility to undertake activity, it being the responsibility of an activity co-ordinator. Whilst most services had a co-ordinator, many services did not employ them every day of the week. In a majority of services the importance of residents being engaged in activity, including 1-1 activity, did not appear to be seen as a priority. Again, time pressures came to the fore, with staff saying they would join in with activities "if they got the time."
Many relatives also commented about a lack of stimulation and activity for their family member. In particular, many said that residents were only taken out of the home if a family member was able to take them. Residents told us that there often was not a lot to do, and what was on offer was not always suitable to their needs. One resident said, "there's not a lot for a bloke to do" whilst another said, "it's my body that's bad not my mind."
It was noticeable that often those with the greatest need received the least stimulation. This was particularly evident in services that accommodated residents living with advanced dementia."
Generally high levels of satisfaction were received with regard to the choice and quality of meals served. All services offered a choice of main meal, with alternatives available if required.
Specific dietary requirements were seen to be met, and those residents on a soft or pureed diet received meals that were well presented. Contacts were made with the Speech and Language Teams (SALT) where necessary. There was evidence of drinks and snacks being made available in between mealtimes.
At all services we visited, staff informed us that they accessed a full range of health care professionals as required. GP's across the Borough tend not to visit unless specifically asked to do so by the Community Matron, who would make the initial visit and who is able to write prescriptions. This was a source of concern to some nursing staff, and some relatives queried the process.
Other professional teams were sourced where necessary, these included the Tees, Esk and Wear Valley Intensive Community Liaison Service (ICLS) who are contacted for advice in relation to residents with acute mental health difficulties or behaviour that may challenge.
Very few people from ethnic minority groups were resident in the homes we visited. Where they were, their dietary needs were met and staff told us that they respected their specific cultural practices such as prayer time.
Many staff felt that the religious needs of residents were being met and most care homes had visiting clergy, and a number also held occasional services on the premises. There was little evidence, however, of staff supporting residents to go to church. At one care home a lady told us she had been a nun for 15 years and would like to go to church, but although she had asked this had not been arranged.
Staff did not seem to be aware of any particular lifestyle choices that residents may have. For example, no staff raised any concerns, or awareness, of the needs of any residents who may be members of the LGBT community.
You can download the full report below, including our recommendations.