Case study: Stockton charity worker receives Royal accolade
A Stockton man has been awarded the Royal British Empire Medal for his outstanding achievements to charity work across the COVID-19 pandemic.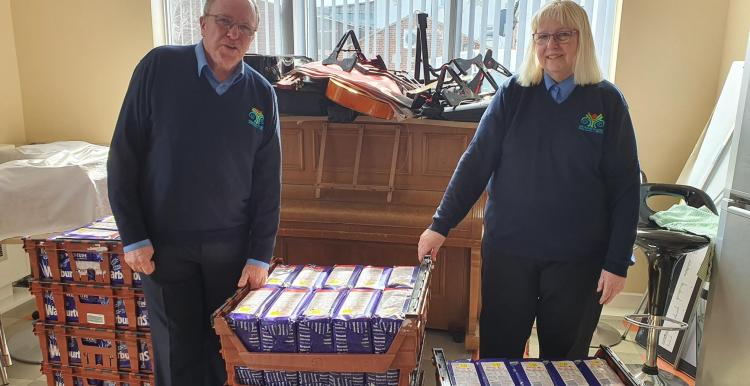 Brian Jones (above left), who is the Chief Executive Officer and linchpin behind local charity The Moses Project, showed passion and commitment to his community by providing food boxes to both his service beneficiaries and local residents throughout 2020.
Volunteers gathered at their base at Alma Street almost daily, working long hours to ensure that essentials were packed for shielding residents and others in need… and it wasn't long before word spread about the initiative.
"Stockton Borough Council got in touch with us and asked if we could distribute more boxes to people in the borough," said Brian. 
"We were looking forward to it to be honest. It was clear that our project was having a positive impact in the area so we wanted to help as many people as we physically could.
"Having seen the issues first hand, there was a clear need for help in the community. Many families were struggling in general, so Covid only added to the situation. On the flip side, there were also people from affluent areas who had lost their job due to the pandemic, so they needed the help too."
You may be thinking at this point that Brian is more than deserving of the award he's about to receive, but this voluntary work is only the beginning of his story.
Brian and his wife Stella began their volunteering journey in 1998, in a coffee bus which was set up in local hot-spots of deprivation including the area in Middlesbrough adjacent to the train station (formerly 'the border'), which was known for its high levels of prostitution and anti-social behavior.
We heard some real horror stories when we worked in the Bus, but if anything, it just highlighted how much help was needed in our area. They were crying out for assistance.
"We did that for around 18 months, but funding came to an end so we couldn't continue.
"Instead, we decided to set up our own intervention, because it was clear there was a need for additional help for those who were struggling - both financially or with their life in general.
"I ended up approaching my local church – the Rivers of Life in Bowesfield Lane, Stockton – to see if we could organise a drop-in facility for those who needed it.
"They agreed, so in 2011 we started hosting a get together for homeless men twice a week. It didn't take long before we were accommodating over 100 people a day, and as a result we had to host 4 events instead.
"As we continued through the years, more and more people heard of us, and the project became bigger and better.
"In 2011 (as a result of the increase), we decided to look into charity status to become a more recognised group, so that was when the Moses Project was officially born."
This success continued right up to 2017, at which point it was decided that a larger venue was needed, so the search began for a more accommodating space.
A few months went by, but it wasn't long before Brian and Stella found a comfortable new home within a building on Alma Street in Stockton, formerly known as the United Reformed Church.
Now, bigger events and social gatherings are hosted from the new premises and more and more organisations are starting to collaborate with the team (including local housing giant, Thirteen Group).
They have also started to take larger groups out on trips away, and prior to COVID, beneficiaries visited the white-water rafting centre, enjoyed a game of bowling, and went to Beamish for the day.
In addition, gentlemen who visit the new centre are assisted with housing and benefit applications and they host learning workshops and social gatherings which include pool and table tennis tournaments. The team also work closely with local outreach services, Change Grow Live (CGL), Probation Services and NHS Mental Health.
This continued support has meant that homeless men have been given accommodation, hearty meals, education, a helping hand with their addictions, and access to rehabilitation centres. Unemployed men and those with mental illnesses have also received guidance throughout the years, but despite everything he has done for them, Brian still remains a humble character.
"This medal is the icing on the cake, but the accolade isn't just for me," he said.
"It's for every member of the team who has helped us from the very beginning. It's also for the volunteers who worked into the night throughout 2020 to give food parcels to everyone. I couldn't have helped anyone without them.
"I'd also like to thank representatives from the council who put me forward for the medal. I was overwhelmed when I heard the news.
"I'm really looking forward to my trip to London to collect it from a member of the Royal Family."
The Moses Project provides support for men aged 25 and over. If you'd like to speak to the team about any of the issues raised within this story, please get in touch.
01642 688 901
Foundation House, Alma Street, Stockton on Tees, TS18 2AP