Joint partnership encourages care homes in Borough of Stockton to become dementia friendly
Stockton-on-Tees Borough Council (SBC) and Healthwatch Stockton-on-Tees have launched a dementia tool kit which has been welcomed by care homes across the Borough of Stockton.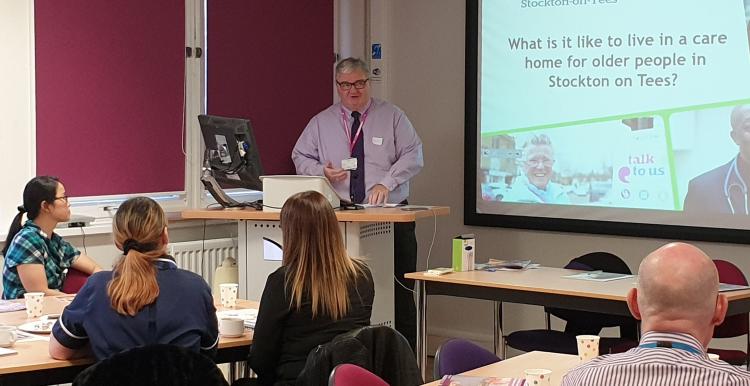 In a joint partnership to help provide a more supportive environment for people living with dementia, the local authority unveiled a guide for care homes at an event facilitated by Healthwatch Stockton-on-Tees.
The event was well attended by care home managers and staff, and following presentations from Tees, Esk and Wear Valley NHS Trust and SBC's Dementia Service team, delegates participated in a number of interactive  workshops, shared best practice and developed ideas for future implementation.
The launch of the local authority's dementia quality framework follows a review undertaken by Healthwatch Stockton-on-Tees in which staff visited 28 care homes for older people throughout the Borough of Stockton in  late 2018.
The resulting report produced by Healthwatch Stockton-on-Tees contained a number of recommendations for improvement. These included developing a programme of activities to suit all residents supported by  resources  and appropriately trained staff, ensuring care homes make the best possible use of dementia friendly features and staggering mealtimes to improve dining room experiences alongside adapted cutlery and plate guards. 
Following the report, a number of positive enquiries from care homes on making dementia friendly changes such as physical environment and the levels and suitability of activities provided were received.
In response to the report and enquiries, SBC produced "Making Care Homes Dementia Friendly – A Guide for Care Homes in Stockton-on-Tees", which features a tool kit of information, activities and ideas. Care homes are now able to review their current approach to residents living with dementia and devise an action plan for improvements based on the guide.
"This is a good example of how collaborative working relationships can help to improve services for service users, their families and carers. I commend Stockton Local Authority for listening to the views of the public and taking great steps in making real changes that can help those living with dementia."
Healthwatch Stockton-on-Tees is now following up with a number of care homes to see what changes have been made and the impact is already being felt, with the rise in the number of local services rated by the Care Quality Commission as "Good," and care homes now challenging themselves to become "Outstanding." 
Alongside its work as independent champion for health and social care services in the Borough of Stockton, Healthwatch Stockton-on-Tees also supports the local community with health service complaints as well as one-to-one support to help people live healthier lives.
The organisation offers free, confidential support for local residents about NHS services through its Stockton Independent Complaints Advocacy Service (SICA). The Healthwatch Stockton-on-Tees team also works to help residents' access local activities and services to help improve their health and wellbeing and reduce isolation through its Stockton Service Navigation Project (SSNP).